---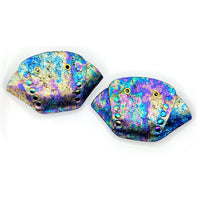 VERY SPECIAL EDITION: MAGICAL MYSTERY TOE CAPS!
Oil Slick Glitter Suede Toe Caps featuring Rainbow Iridescent Hardware
Set of two, complete with nickel eyelets and iridescent rivets along the seams. Durable metal hardware holding everything together - not sewn - no thread to unravel or bust apart after a gnarly wipeout. Built to last.
SPECIAL EDITION INFO:

Rivets have been specially treated to get their iridescent, oil-stick coloring. Each piece is exposed to a chemical process which causes an oxidation-type reaction in the metal, giving it a unique and colorful finish. 
Because of the extra treatment process they require, these rivets are not cheap! (but certainly are pretty!) Their iridescent quality is like magic and somehow seems to match every color they are put with. There isn't a shade they don't go with! 
Due to the expensive hardware AND glitter suede material, these toe caps will have a higher price tag and be made in very small batches. Very limited quantities of each color and size available.