---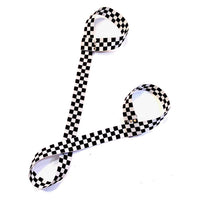 Skate leashes allow you to carry both skates over one shoulder with ease, hands-free! Simply slide each skate through one of the loops (toe first), so the loop is positioned around the middle of your skate. Pull to tighten. The adjustable loops allow you to cinch the strap tight, gripping your skates while carrying them to ensure they won't fall out.
Width: 1.25"
Length: approx 36" end-to-end
Material: polypropylene webbing
★ ☆ ★ Don't forget the matching laces to tie your whole setup together!

https://rollerstuff.com/collections/laces/products/black-white-checkered-flag-skate-laces